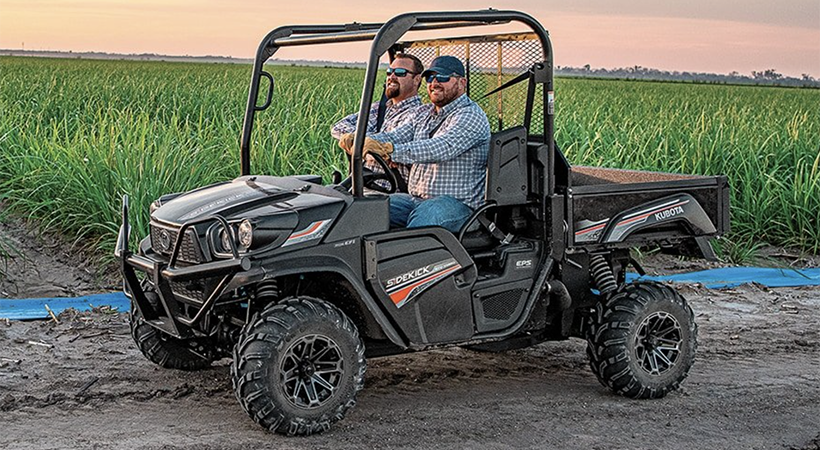 DURABILITY MEETS SPEED
Part workhorse. Part racehorse. With speed and acceleration that blur the line between work and fun. Freedom to roam at 40 mph. And legendary Kubota durability. Including the standard two year / 1,000 hour warranty. The gas-powered Sidekick is built for speed and to get the job done right. Click the tabs below for more information on Sidekick features.
POWER: TAKE ON THE TERRAIN
Kubota's all-new 851 cc 4-stroke twin cylinder gasoline engine was designed to deliver a smooth 48 HP. Equipped with EFI for increased reliability and coupled with Kubota's limited slip 4-wheel drive system, the Sidekick allows you to take on the toughest terrains.
ENJOY THE RIDE
Tuned suspension for handling any rugged terrain, with full or empty pay load. Enhanced steering geometry coupled with speed sensitive EPS provides excellent control over any terrain.
WORK HARDER, LAST LONGER
The Sidekick is the ultimate extra hand around the ranch. It can move 1,000 lbs.* in the bed and tow up to 1,550 lbs. on hills and 2,000 lbs.* on flat terrain. That plus the two year / 1,000 hour warranty makes feeding time in those upper pastures quick and stress-free.
Call 903-729-6951 or click the 'TEXT US' button on the bottom right of this site with any questions.